Bologna - Daily tour
How the city is made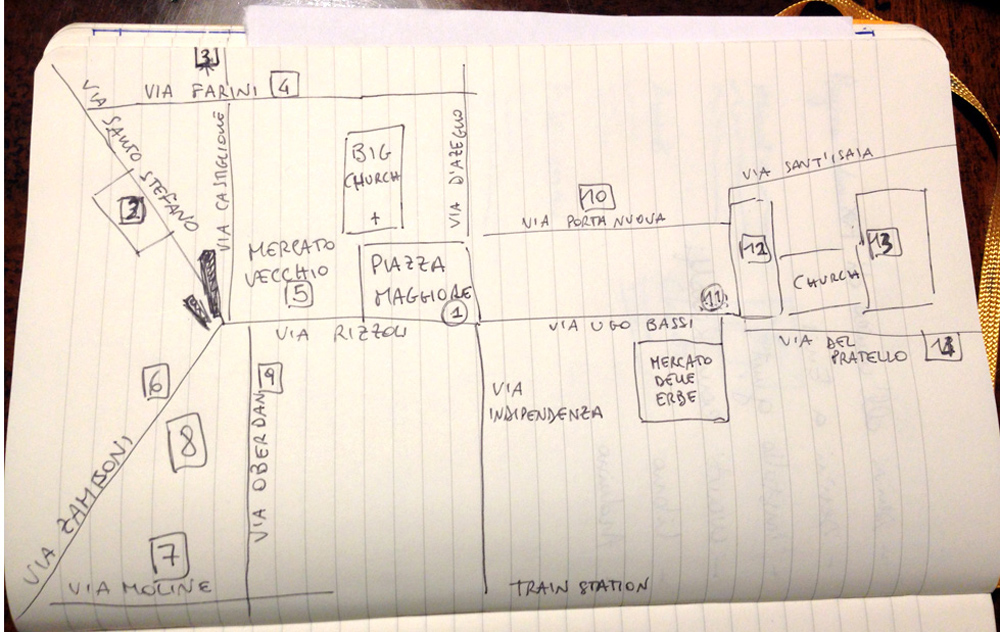 It's easy. The city is circular and surrounded by walls. All inside the walls is city center. It is all at a walkable distance. If you can rent a bike it would be awesome. But walking is fine.
On top you can find a state of the art, hand-made map and here below a day tour of all attractions. There's more but that's enough for a quick visit. Do as you prefer and in the order you prefer, of course. In another page I'll be more specific on restaurants and pubs. If wherever you go you can't find something, just ask the first barista (barman) or local shop person around you.
Let's begin
So here's your tour:
Guessing that you're arriving from the train station, go up in via Indipendenza, arrive in Piazza Maggiore (#1 on the handmade map). Look aroud you, say Wow.

Start walking in via Rizzoli, tower direction. The highest tower is "Torre degli Asinelli" (Asinelli is the family name who made the tower).Turn right in via Santo Stefano, arrive to Piazza Santo Stefano (#2). Say wow again. A former prime minister lives there (Prodi, not Berlusconi, sorry. Here's me with him 😋).

Walk through Piazza Santo Stefano and stay on the right side. Once you passed the Santo Stefano square (Piazza is square in english, you got it), U turn right in via Farini.


When crossing via Castiglione, take left. At the end of Via Castiglione (it is quite long), there's a good gelato place right if front of a good pizza place (summer/winter – and that's #3 on map) as a reward for your walking.


And also, in case you want to enrich your light meal, there's a good patisserie always there (again, for detail on food, see the Bologna food page).


And in case, there's a park if you want some fresh air. It's called Giardini Margherita. Now back to the city. Go back in via Farini (from Castiglione turn left).


Take a walk through the fashion street (#4). Hang for a while in Galleria Cavour, than back on via Farini. If you want a gelato there's a good one in piazza Cavour.


When you'll cross via D'Azeglio, turn right. Again, fashion stores. DON'T eat gelato at Grom: they say it's artisanal but it's not.

When you'll be back in Piazza Maggiore, go right. In front of you, at the end of the square, there's the old market area (right behind Liu Jo and Sisley stores) (#5). Walk through the small streets. Hang around. If you want you can buy some good food to bring home.


Oh, there's the Archiginnasio just around the corner. Go there. That's the first university building for the local university (that is the first university in the world together with Oxford. 1088, dude 🎓👩‍🎓👨‍🎓). When there: all of the arms inside are from teachers and student families. Go up to the first floor (remember that ground floor is floor 0 here). Pay the ticket to get in (it should be about 3€) and enter the artist room and the law room. If there, ask the old lady there for information, she knows everything even if she's not a guide. If she's not there, just use Wikipedia of read the paper they have there. If you have time, go inside the reading room even just for a walk (they'll ask you for ID).


Go back to the old market. In Vicolo Ranocchi (vicolo is a really tiny street) there's the "Osteria del Sole". It is one of the oldest osteria in Europe (about 1400ish). You can buy some food at the market (go for bread "pane" and mortadella) and bring it with you in the Osteria (it's ok) and then ask for a glass of wine there. Take your time. You're doing good. Bravo. When you fell cool, move on.

Back to tower direction. Once under the tower, take a walk in via Zamboni (6), that's the University street. There's nothing really interesting there (not true, but we have only one day, mate!) except if you're a student, so turn left when you cross via Marsala and search for "Camera a sud" (ask around). It is a nice place for an aperitivo, lot of good hipster folks too.


Back in via Marsala, take via Mentana in front of you. Walk until via Moline. There's a wow bar here (Le stanze, in case you wanna see it). Take left and then left again in via Oberdan. As you walk in via Oberdan look right: see the river? It's not a river. It's a canale. There's canali all under the city. They use to transport goods on them back in the days. The can get you until Venice. Continue walking up until you get back to via Rizzoli.

Go back to Piazza Maggiore (you should be familiar with it by now), via d'Azeglio direction. Instead of taking via D'Azeglio, when you have it in front of you, take right and go ahead. You'll have the "Orologio hotel" ("Orologio" means clock in italian) on your left side. Walk ahead. Go in via Porta Nuova (#10). At the very end of via Porta Nuova, you see old with kind of walk though. See that? That's because before che actual wall there where a smaller walls around a smaller city center. They built it around 1200 and destroyed slowly in the years after. Now you know 🙂 .


Back to us, go to via Gombruti and walk until the end. Here you can see Gamberini (#11). It is the oldest patisserie in town (1907). And the best one probably. Take a single minion just to say you tried the best one.

Here you can go for a walk at Mercato delle erbe. It's a market with restaurants and bars. Nice place. Check also behind the mercato in via belvedere, it's full of bars.

With Gamberini entrance behind yourleft, go left, cross the street and reach Piazza Malpighi (#12).


Keep walking until Piazza Malpighi (#12). Keep walking around the big church and reach Piazza San Francesco (#13). While walking, you see those graves around the church? Those are from 1200 and they host "Glossatori"- Those were the guys who, for first time, wrote side notes on law books (yay!). We're talking about 1200, they made laws available to a wider public. Good job guys.

Aside Piazza San Francesco there's via del Pratello (14). It was bitches and criminals street during medieval age, now it's just low profile, communists pubs and restaurants street. Still authentic. Locals go there a lot. Baraldi il my favourite no frills place to eat.
Bonus for Piazza Maggiore
In Piazza Maggiore there's the information point. Ask for the underground tour. That's cool. Ask also if it's possible to see "Cinema Modernissimo". Generally, if you need a guide more official then this one they have plenty 🤗

In summertime nights there's the Cinema in piazza. That means that they project a movie in the big screen and usually is subtitled in english and a second language as well. For free. Niche movies. Good stuff.

In Palazzo Re Enzo, there's talking walls. Ask Information point there. So funny.


Go inside Sala Borsa. That was a kind of Stock exchange place in town. Now is the public library.


Go inside the big church (Basilica di San Petronio). From behind the big church you can also take an elevator and go inside the roof structure. Super cool.
Credits
I made this guide for a friend's friend once. Then I thougth it could be usefull to use it again. And here it is.
What about food?
This page is already too long. With food it would be a papyrus. I made another page just for that.
How can I tank you?
You don't have to 🙂 If you see errors or wanna say something to make it better, write me. That would be awesome!